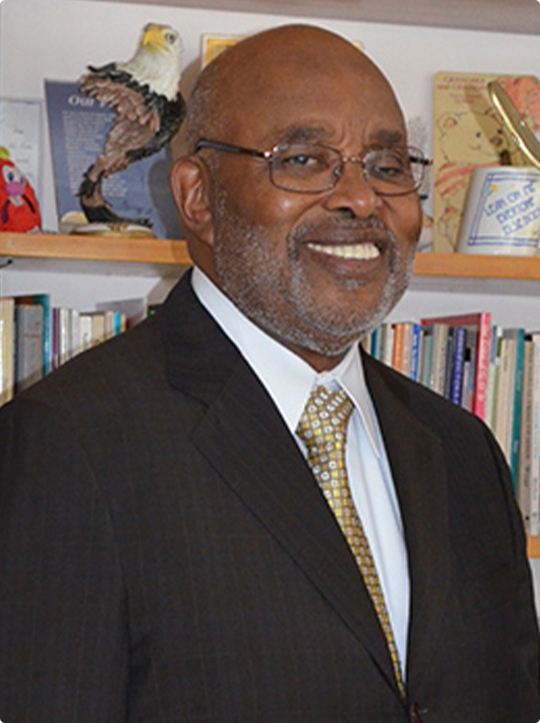 Dr. Jacob L. Chatman retired as Pastor of Pinn Memorial Baptist church in June 2019 after 26 years of exemplary service and leadership to our church and community. We will always be thankful for his work as a committed Christian, Educator, Preacher and Pastor.
Dr. Chatman graduated from Florida Memorial College with a Bachelor's Degree and later earned his Master of Divinity Degree from The Eastern Theological Seminary in Philadelphia. He earned his Doctorate in Education from the University of Massachusetts in Amherst. He holds more than 70 citations and service awards including, 'The Most Outstanding Young Man of America Award. He presently serves on the Governors Board at Eastern University in Saint Davids, Pennsylvania.
Dr. Jacob L. Chatman became the eleventh Pastor of Pinn Memorial Baptist Church in April 1993 and even in retirement continues to provide guidance and spiritual leadership to the church. Before coming to Pinn, he was Pastor of the St. John Missionary Baptist Church in Springfield, Ohio for 13 years. Prior to St. John he was Pastor of the Second Baptist Church in Coatesville, Pennsylvania for 14 years.
Over the past twenty-six years, Dr. Chatman established numerous church and community programs at Pinn Memorial and in the community including:
The Pinn Business Development Center
The "55 Alive" Seniors Ministry
The Pinn Gardens Apartments
Realignment of church ministries
Increased focus on missions and evangelism
A Place Like Home II (full-service adult daycare)
Emphasis on Youth activities
As Pastor of Pinn Memorial, Dr. Chatman served this church with vision, compassion and tremendous vigor, all fueled by his faith, a beacon of light which has shined on us for 26 years. We have been blessed by his leadership and by the support of his loving wife, Mrs. Etty Chatman, an awe-inspiring woman committed to God. Along with her husband, Mrs. Chatman has supported all of our ministries at Pinn Memorial. She has shared her extensive expertise in the field of education by teaching Sunday School, the children's discipleship classes, Spanish classes, after-school tutoring, and leading church-wide efforts to collect school supplies during Homecoming and funds to support the "Walk for Hunger".
And now, in retirement, Pastor and Mrs. Chatman continue to be active members of Pinn Memorial. Together, they LOVE Pinn Memorial and Pinn Memorial LOVES THEM BACK!