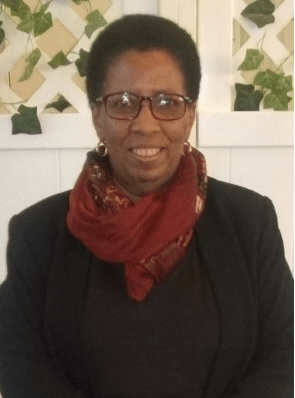 Reverend Gwendolyn Traore
Reverend Gwendolyn Traore is a daughter of Pinn Memorial Baptist Church. She not only grew up in the church, but she actively served alongside her entire family in fulfillment of her great grandmother's legacy. For over 30 years, Rev. Traore has been engaged in Foreign Missions under the National Baptist Convention U.S.A., Inc. Foreign Mission Board.  Rev. Traore and her husband Musa, a native of the Republic of Guinea are stationed in Conakry which is the capital of the Republic of Guinea where they have served since 1990.
Rev. Traore graduated from Cheyney University in 1971, with a degree in Elementary Education.  She was preparing to accept a teaching position at a newly opened school in Philadelphia when a phone conversation between her Aunt Nana Dunn and Reverend William J. Harvey, III, [a renowned Missionary and former PMBC Pastor], sparked her interest in becoming a Missionary.
Rev. Harvey asked her to consider teaching in the Republic of Liberia, West Africa.  Although Rev. Traore had served in various capacities during her years at PMBC (Children's & Youth Choirs, Sunday School and Vacation Bible School), she had never interacted with the Missions & Evangelism Ministry. After some consideration, Gwen decided to abandon her teaching position and dedicate two years to the Lord, out of gratitude for all the things HE had done for her.  The decision to leave home and all things familiar to serve in the Republic of Liberia was not an easy one to make. She had learned about negative experiences and misadventures of someone else from her student-teacher advisor which was not very comforting. That coupled with her parents' reluctance to see her travel so far from home made the decision a perplexing one to make. Nevertheless, her parents remained supportive of her choices and allowed Gwen to make her own decision. This would be Gwen's first encounter with foreign missions. Rev. Harvey was also a trusted family friend, his advice and guidance would have a great impact on Gwen's career as a missionary.
The Evangelistic training received by this – then new Missionary was not formal, but Gwen was mentored by a team of veteran missionaries at Suehn Mission in Montserrado County, Republic of Liberia.  Gwen also became resourceful and sought out the Director of the Child Evangelism Fellowship in Liberia to give her training on implementing Five – Day Bible Clubs to share the gospel with children thus influencing her to go to the surrounding villages to visit families who spent the day working on the farm. In interacting with other African American women missionaries, Rev. Traore became inspired by their stories and shared experiences.  She decided to go back to school to study theology, Christian education, the implications of the gospel of Jesus Christ and how to share the Gospel cross-culturally (in a culture not her own and having a different language). She learned about and applied to the Atlanta University Center in Atlanta, GA, and received the financial support of Pinn Memorial Baptist Church, Rev. Frank B. Mitchell, pastor and Bethany Baptist Church, Rev. Alpheus Bright, pastor.  In 1974, Gwen was accepted into the Interdenominational Theological Center (I.T.C) in the Morehouse School of Religion (the Baptist Seminary) of the Atlanta University Center. Upon completing her seminary studies in 1976, Rev. Traore answered another call on her life which was to be ordained to Christian Ministry. The council and ordination process were arranged by Rev. Frank Mitchell of Pinn Memorial Baptist Church and Dr. Bobbie Joe Saucer, Dean of Morehouse School of Religion. Rev. Gwen Traore was ordained with another classmate from Morehouse School of Religion-ITC, Rev. Florida Battle in 1976. Upon ordination, Rev. Traore, who thought she had "done all that God called her to do" the first time, felt led to return to Liberia to work at the Bendoo Mission in Cape Mount County from 1976-1978.
In February of 1978 she returned to work at Suehn Mission where she married Mr. Musa Traore, whom she met in 1972. He was part of the teaching staff of Suehn Mission as a French Instructor. In 1980, the newly married couple went home to the United States to start their family which resulted in their greatest blessings, their two daughters Kader Cheatham and Phinda Hillmon.
From her work in Liberia, Rev. Traore realized that serving mankind and bringing hope in this life was of great importance, so she revised her vision to pursue studies as a Physician Assistant at Hahnemann-Drexel University from 1984-1988.  Medical missionaries are welcomed in poor communities because it presents an opportunity for them to show the love of Christ while meeting a critical health need. With this newly acquired skill set, Rev. Traore decided to take an innovative approach to her mission work by submitting a proposal to the N.B.C. Foreign Mission Board to venture into uncharted territories, a French speaking country where her husband is a native.
The Republic of Guinea has a large percentage of people who have never received the gospel message.  In fact, approximately 95% of the population were unreached with the Gospel not because they rejected the Gospel but because workers were so few, no one to preach in their language, very few who could read, and there was no Bible in their language. To earn the right to speak to people about their real need (a relationship as a disciple of Christ Jesus), they had to enter the Sousou community first by establishing the Christian Service Center, a health center where worship services are also held. The Center was established to meet the felt needs of people, while giving them an opportunity to hear the Gospel and to experience the love of Christ Jesus, train disciples and enable them to live for Christ. The mission in Guinea started Children's Bible Clubs with Muslim children, French Literacy classes, English Classes, and a Health Center that is accessible and affordable.  The health center has Pediatrics, General Medicine for Adults, Pre-natal care, and maternity for eight years, laboratory and vaccinations.
The government contributed a solar refrigerator for vaccines in 2019, table computer and the F.M.B. purchased a new refrigerator for the laboratory in 2013. Many who have been in hopeless situations: unable to pay for much needed medicine, rehabilitation, and surgery were helped through the N.B.C. Christian Service Center.
The impacts of local partnerships in Guinea
Working with other churches and para-church ministries in Guinea with a shared vision helps to make the mission work more impactful for the residents of Guinea.  We have also collaborated with an international group in Guinea called "Terre des Hommes" which was instrumental in our efforts to send an infant in critical need to Europe for surgery to close a hole in his mouth that had to be closed. The joint efforts also supported a twelve-year old girl who needed to have a heart valve repaired.  Financial gifts received through this ministry have also made it possible for young medical workers to gain employment and experience through the years in-country.
 
The mission team in Guinea also collaborates with local groups to perform peer to peer outreach training of Christian women housing Muslim women who have left the faith of their families for Christ and are suffering persecution.
Evangelism and Outreach Efforts
The mission work in Guinea seeks to develop and train church planters and leaders. The biggest community and evangelism activity implemented by the mission team in Guinea has been the establishment of small groups where the community is invited to view movies and have spiritual discussions and light refreshments. A wonderful evangelistic tool has proven to be the showing of the Jesus Film which is a great conversation starter because the film is translated in multiple dialects (local languages), the film attracts over 500 people each time it is viewed. 
The mission in Guinea also spends a lot of time investing in the training of disciples who help lead the community activities in the capital of Conakry and rural villages in Macenta and Gueckedou.  The trained disciples both men and women, are prepared to discuss and answer questions from community members (including young people) during and after the viewing of the film. 
 
Another successful evangelism activity for the mission team in Guinea is the Bible Club/Youth program which incorporates athletic activities as well as group discussions that help introduce and understand the gospel.  Church leaders have led two-week Bible camps in partnership with other churches particularly geared towards younger church members (who were from Muslim families that had given their lives to Christ), their friends, youth club members; youth from areas who are seeking Christ but live-in areas where there are no churches and youth contacts in the community of the church who were afraid of their family seeing them in a Christian circle. 
 
The mission team teaches Guinean Christians to do oral chronological presentations of the Bible and focuses on sustainability efforts, when financially able, by giving support through education and training to enable them to support themselves and their families and not be dependent on the mission.
Seeking God's will in the Republic of Guinea
After 31 years of serving the people of the Republic of Guinea, Rev. Traore describes her experience as a labor of love and a constant walk of faith with God.  Rev. Traore was driven by her theme John 10:16, "And other sheep I have which are not of this fold; them also I must bring, and they will hear My voice; and there will be one flock and one shepherd."  Under Rev. Traore's leadership, the mission team in Guinea had the responsibility of developing missional sites in Guinea where there has been no impact with Christians or churches. They try to support Christians in these areas where they serve so people can hear the voice of Jesus. In making disciples, many times the disciple will take positive steps forward and at other times they will take some steps backwards that bring tears and heartache to the disciples. The challenge is to remain with the disciple physically and/or spiritually until God accomplishes His plans in their lives.  Despite of a lack of resources needed to support the work, "God has been doing great things with the little we have and in the lives of people who want to be His disciples." Because we had a health center on the ground during the Ebola epidemic, we were able to distribute nutritional biscuits to children from the World Baptist Alliance and the F.M.B. gave fifteen thousand dollars to distribute 50 Kilogram bags of rice and 20 Liters of cooking oil to some families in Conakry, Dubreka, Coyah, Forrecariah, and Macenta. The Ebola crisis (2014 – 2016) and the current COVID-19 pandemic caused major setbacks to the entire country and ultimately the mission work. The COVID-19 pandemic continues to present extreme economic challenges. However, the mission team in Guinea has learned that setbacks are always setups for success. God's timing is sovereign. The youth of the church have been developed and trained to be part of our team because no African American missionaries have answered the call. They have now all grown up and are building homes, starting schools, and planting seeds in critical areas where there are no Christian churches nor any formal Christian influence to develop churches. The schools established by our team partners in ministry help create a relationship between the disciples and the nearby communities.
 
Monetary donations from believers are always timely and help to engage in much needed projects that the budget does not always cover such as community projects, the fees for students in school, and to supplement administrative needs.  Donations have helped to do much needed building maintenance (in Conakry and in the village), school building materials, car repairs, and supplement the supplies of medicine for Malaria and Typhoid (which are sold to generate income and restock medicine in the health center), laboratory materials, and support for the missional sites in Conakry, Macenta, Dubreka, and the purchasing of Bibles for the church site in Wonkifong from Pinn Memorial Baptist.   
 
As the Ministry goes forward by God's grace and mercy, the recommendations from Rev. Traore are for prayers for God to raise up an anointed Guinean Christian leader for the ministry to go on to areas where God is working in Guinea to work through this leader and their team to achieve the plan of God to proclaim the gospel, make disciples, manifest God's love, and to plant churches. Pray for men and women from Muslim backgrounds that God can use to preach the Word, in all walks of life to make Jesus known, live a transformed and empowered life by the aid of the Holy Spirit, to influence and guide the community with a lifestyle that manifests Christian values.  Pray for others to go out to build and train Guineans in areas where they have limitations so that one day they will be able to do it themselves. Pray for a spiritual breakthrough of disciples in Bonfi, Matam (our headquarters). Pray for ways for the ministry to become self-sufficient with funds for health center salaries so that the Guinean leadership can sustain God's ministry fully depending on outside support. 
 
Much gratitude is expressed to the pastor, Mission and Evangelism Ministry, leaders, and members of Pinn Memorial Baptist Church for their continuous financial and prayer support for us and the people we serve. We thank God for the privilege to serve in Guinea.